Advent is a season of actively watching and waiting. It's a time to prepare our hearts, with prayer and fasting.  It's a time to look back with gratitude, to Jesus' birth, in Bethlehem, and forward, excitedly, to His return as Christ the King.
It's a time of prayer and reflection, hopeful anticipation, and cheerful preparation. It's a time of intentionally welcoming God into our everyday lives.
Advent covers the four Sundays before Christmas. This year it starts on 29 November.
Check out these ideas to get some inspiration and create some new traditions or add to some old ones for your family. Contact Andrea (andrea.neale@capitalvineyard.org.nz) if you wish to order any resources or want to know more.
IS IT TIME YET? A family Advent journey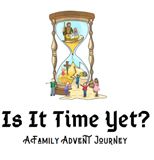 In this book, you'll find 25 stories meant to be read 1 per day, December 1-25. Each story stands alone, but together they tell the overarching story of the Bible, help children to see that Jesus came at just the right time, and remind us each day that Christmas is more about Jesus on the cross than Jesus in the manger. Comes with a devotional guide and colouring book.
What you need:
Is It Time Yet? Book (digital download)
Family devotional guide (digital download)
Colouring book (available from CV)
NATIVITY TRAIL – An Advent journey with Jesus, Mary and Joseph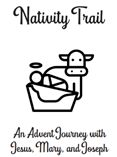 Jews, both at the time of Jesus and today, used the Book of Psalms as their prayer book, but how do we know that Jesus did this too?
As you pray through the Psalms this Advent, you will hear a couple of recurring themes and one of those themes is the longing for a Messiah. God had promised to send a Saviour to His people, and through all the long years of terrible kings and exile, the Jewish people had clung to that hope. That hope echoes through the Psalms. Therefore, when Jesus prayed and sang these songs, He was singing about Himself and fulfilling the promise God made to His people long, long ago. He was the Messiah the Psalms begged for. He was God's answer to their cries for help!
Available as a digital download.
AOTEAROA ADVENT CIRCLE
The Aotearoa Advent circle is inspired by the traditional Advent Wreath, which was invented in Germany by a village pastor helping his flock to count down the days to Christmas.  In Europe, the forest was the place of adventure, quest and danger. The evergreen branches of pine trees symbolised the faithfulness of God's love and the candles showed the light of Christ.
But we live in Aotearoa, it's summer time, so we can use symbols that reflect the Christmas season in New Zealand.
Use either an icecream container or a plate to put your candles on. Decorate each candle with one of the 4 themes of Advent (hope, peace, joy, love), or use our gospel colours to retell the gospel story (blue, grey, red, green, yellow). Light the first candle each night for a week when you eat dinner. The next week light the second and third candle. Do this each week until you light all 4 in the fourth week. The fifth central candle can be lit on Christmas Eve or Christmas day.
What you need:
5 candles
Ice cream container, flower pot or plate
Sharpies
Ribbons for the candles
Shells, twigs, flowers, whatever you can find to decorate
Instructions (for traditional or gospel theme) are available from CV.
NAMES OF JESUS family devotional
Jesus has many names. There are so many amazing descriptions of who He is. We call Him by many titles and descriptions, but do we take the time to reflect on these as we revel in the truth of His birth?  As you read through the daily interactions there will be different things each day to get you connected. Sometimes it might be a video you watch, other times a simple activity or even a game. There will be suggestions of questions to ask, and a guideline that you can talk through.
Available as a digital download.
JESUS STORYBOOK BIBLE ornaments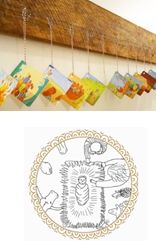 For every day of Advent, there is a printable ornament, and on the reverse of each ornament there is the related story to read in The Jesus Storybook Bible. As your family adds the ornaments to the tree, trace God's hand through all the stories, and tell the one big story of God's Great Rescue Plan—starting with creation and leading up to Jesus' birth.
There are now two versions – one already printed or one to colour in.
What you need:
Printed cards (available from CV or download your own)
Christmas ribbon or string
Somewhere to hang each ornament – eg a tree, hooks, rope
PRAYING IN COLOUR Advent Calendar

Doodle and colour through Advent. Doodling is a great way to spend a few moments of quiet and pray for someone or reflect and meditate.
Use one of the templates (available from CV) or create your own. Or go to their website and download your own.
AOTEAROA ADVENT colouring pages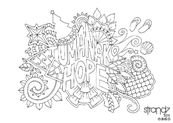 Use these colouring pages created by Strandz using the four themes of Advent in English and Te Reo:
Love / Aroha
Peace / Rangimarie
Joy / Koa
Hope / Tumanako
Can be ordered through CV or download your own from the Strandz website.
LEGO Nativity Scene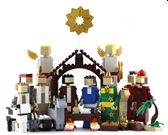 Everybody loves lego! Build up to Christmas by building part of the Nativity scene each day. Download the parts list and start assembling your bricks!
What you need:
ADVENT PLACEMATS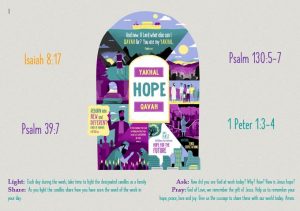 Use the placemats each night as you eat dinner. The placemats use the Advent themes of Hope, Peace, Joy and Love using resources from The Bible Project.
Each week use one of the placemats as the focus. Placemats can be ordered from CV.
BORROW A BOOK
Check out one of the books from our CV Family Library. Take one home to read for a week or over the Christmas break. Please remember to write your details on our borrower sheet.
YOUVERSION family devotionals
If you have never used the YouVersion bible app, now is the time. There are tonnes of devotionals for you or your family to use in the build up to Christmas. Just search "advent" or "Christmas" and choose a plan that works for you and your family.
YouVersion is available for iPhone and Android devices.
CAPTURE CHRISTMAS social media challenge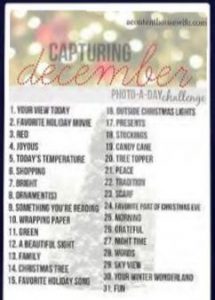 Using the ideas provided, take a photo each day in December and post to your social media.