Last week the lead up to Easter called Lent began. Lent is the season of fasting and self-denial observed by many Christians in the days preceding Easter Sunday each year. The word "Lent" comes from a word meaning "lengthening days," with the Lenten season consisting of forty fast days as days lengthen in early spring (northern hemisphere of course).
I have many memories of Lent growing up as a Catholic. There was much discussion about what you would give up (usually some sort of treat), the delight of fish and chips every Friday (because you weren't supposed to eat meat on Fridays during Lent) and the excitement of getting a cross on your forehead on Ash Wednesday. It was a really special time of the year because every day you got to think about the joy of Easter Sunday (and finally have treats again!!!).
Do you have an Easter tradition in your family? Below are some resources that you might like to use to enhance your current traditions or to create new ones.
This is the season where we celebrate and remember the sacrifice Jesus made and what he achieved by dying on the cross and then coming back to life. Let's make this a really special time of year!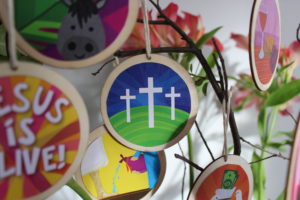 Journey to Easter
A creative resource for all ages to journey through Holy Week. Take a slow, intentional journey from Palm Sunday through to Easter Sunday.
In a similar style to a Jesse Tree at Christmas, make your own 'Easter Tree' and add on an decoration each day. Decorate your tree in bright tissue paper flowers or bright drawings on Easter Sunday, to celebrate the resurrected King. Stories over the 8 days include Palm Sunday, Mary pouring perfume on Jesus' feet, Good Friday, Easter Saturday and Sunday.
Stretch it out over the entire Lent period or every day through Holy Week.
Last year each family was given a Journey to Easter pack. If you didn't receive one or have lost it, there are some spares. Please contact Andrea.
Devotionals
Use some or all of the ideas in these devotionals created for families.
Best Surprise Ever – By Jason Byerly (Family Jet Pack). A 7 day devotional (which you could spread over several days) focusing on the resurrection of Jesus. Includes a reading, prayer and discussion questions. Great for all ages.
Journey with Jesus – Sign up to weekly emails from Parenting for Faith to journey with Jesus to the resurrection
Journey Through Lent  – is a whole family observance of the lent period, with music, projects, Bible reflection and visual reminders to help us observe this time and raise the importance of Easter.
Lent Scripture Chain – 40 verses to consider over the 40 days of Lent. Print and cut into strips to make into a chain. Use the verses given or add your own.
Lenten Cross Calendar – Similar to an advent calendar, you can count down to Easter by colouring in some crosses. Has suggestions about different colours representing different prayers.
Other activities
Pray the Promises of God – Follow Arabah Joy on Instagram. Each day she has a short devotional for different promises of God.
LifeFM #instaLent – run through LifeFm – There's a different word of inspiration for your Instagram pics for every day of Lent! Use the hashtag: #LifefmLent on your Instagram posts and stories and LifeFM might share them on their social media
Easter Traditions – some fun things you can do as a family to create your own traditions, eg Egg your Neighbours, Blessing Box, fun Easter traditions from around the world
If you have a great idea of what happens in your family, let me know and I can share with everyone. Keep an eye on this page as I'll add more resources as they become available.